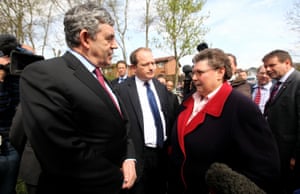 The prime minister's walkabouts were meant to be a pre-election charm offensive. Instead, he has been confronted by people who are sick of austerity
Life is just too short, Siobhan McArdle said, to be a chief executive in the NHS right now. In an unusually blunt resignation letter earlier this month, the outgoing leader of the troubled South Tees hospitals foundation trust said her hospitals had delivered millions in so-called "efficiency savings", but now the cupboard was bare. The trust had already been severely criticised by regulators for a bed shortage that was hurting patients; it couldn't, she suggested, keep cutting without care suffering. It's rare for a hospital boss to throw in the towel so publicly, but many in the NHS will understand where she was coming from.
The number of patients waiting for NHS surgery is now at its highest since records began in 2007. One in 11 NHS posts are lying vacant as staff quit and aren't replaced. If we didn't have a winter crisis last year, or not in the classic sense of patients piling up in corridors, that's arguably because what was once an acute seasonal shortage of beds has become a chronic one rumbling all year long. For months all this has rather puzzlingly failed to get much political traction. But now, thanks to the father of a very sick baby girl, it has.