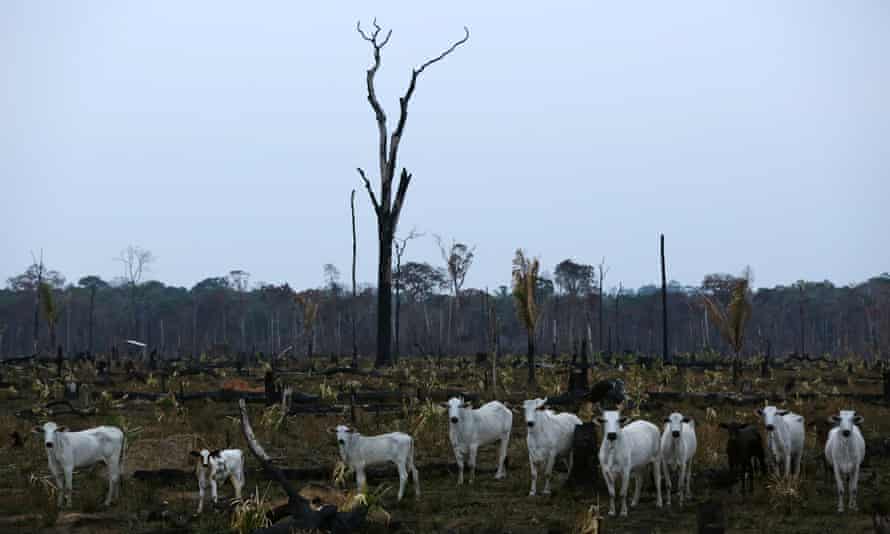 Cattle graze in a cleared part of the Amazon in Amazonas state, Brazil. Photograph: Bruno Kelly/Reuters
What jumps out among the many hundreds of pages in the initial study is the extraordinary capacity of the Amazon to support life in and beyond the borders of the rainforest. It says new species in the region are being discovered every other day. The diversity of plants, insects and animals confers stability and resilience to local ecosystems, plays a critical role in global water cycles and regulates climate variability. The basin produces the largest river discharge on Earth, accounting for 16% to 22% of the world's river input to the oceans.
Other chapters describe how these globally important functions are weakening as a result of land conversion for cattle ranches and soy plantations, and disruptions of river systems by dams and hydroelectric dams. About 17% of the Amazon has been cleared and more than 17% degraded.
The authors say tipping points may already have been passed in some areas, such as the south-east Amazon and on the border between northern Brazilian states Maranhão and Pará, where more than 70% of the rainforest has gone and once-abundant species are endangered.
Source: Transform approach to Amazon or it will not survive, warns major report | Cop26 | The Guardian