as festivities got into full swing in March, testing capacity was criticised as inadequate. Masks, though mandatory, were largely absent. The Uttarakhand BJP chief minister, Tirath Singh Rawat, who had earlier told devotees that "faith in God will overcome the fear of the virus", was among the millions pictured taking part in the rituals wearing no face covering. Police overseeing the event said that were they to enforce social distancing, "a stampede-like situation may arise".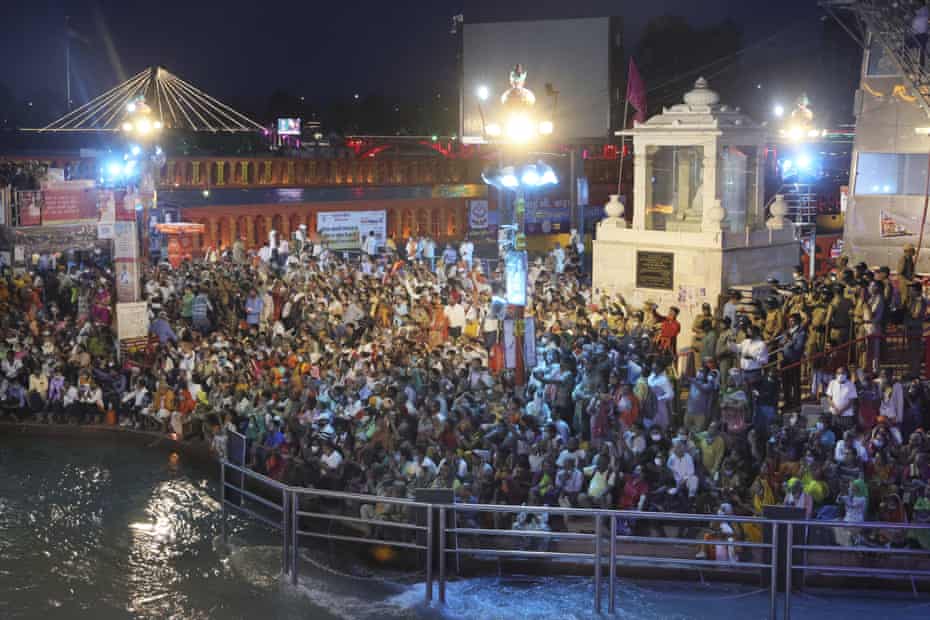 By the time the festival ended, on 28 April, more than 9 million people had attended.
The true toll of the Kumbh Mela will never be known, due in part to an alleged effort to stop collecting data. Thousands of pilgrims returned home without having been tested or quarantined and without any track of them kept by the government.
Some states began a belated effort to trace and quarantine the returned. In Madhya Pradesh, 789 pilgrims were traced from eight districts and 118 tested positive.
But as media attention focused on Covid-19 cases among the Kumbh returnees, the officials were ordered to stop counting. Four officials in different districts of Madhya Pradesh, as well as officials in Rajasthan, confirmed to the Guardian that their seniors called them off for political reasons.
"We were told to concentrate on the general Covid situation, and not focus on surveys and tracing of Kumbh pilgrims," said a senior district official in Rajasthan, who requested anonymity, fearing reprisal.
Source: Kumbh Mela: how a superspreader festival seeded Covid across India | India | The Guardian