Safely outside the country, the brothers have given an account of brutal military repression and their decision to take the fight to the military in a bid to prevent further violence. Their journey would take them from peaceful protest in Yangon to petrol bombing police stations and running for their lives.
Lin*, 21,the eldest of the four brothers, said he had watched the coup unfold from his home in western Thailand, close to the border. Seeing the death toll mount amid growing military brutality he felt compelled to join the resistance movement, and soon his three younger brothers and two cousins from different parts of Myanmar followed him to Yangon.
At 15, Za* is the youngest of the brothers. He said he took part in the resistance because he wanted to stop the violence on the streets. "Look at how many people they have killed in the past two months. If we don't do anything and just let it happen so many more innocent people will die," Za said.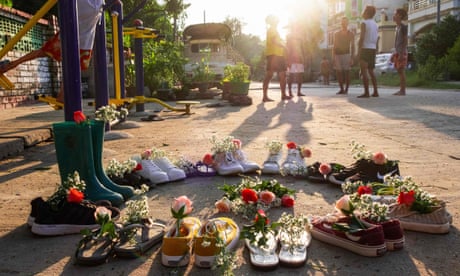 Joining the protests
The men met up in Yangon and for the first few days joined the peaceful protests. Soon, they became part of a nightwatch team protecting residential neighbourhoods from night-time raids by security forces. Armed with sticks and swords they say they helped women, children and the elderly move around safely.
As they continued to demonstrate, some teams of frontline protesters began discussing the possibility of hitting back, Lin says. "People started saying we need to fight back. But they didn't know how, and they were scared." Lin says he was concerned it was just what Myanmar's military, also known as the Tatmadaw, was hoping for.
Source: 'We wanted to scare them': the brothers who fought back against Myanmar's army | Myanmar coup | The Guardian