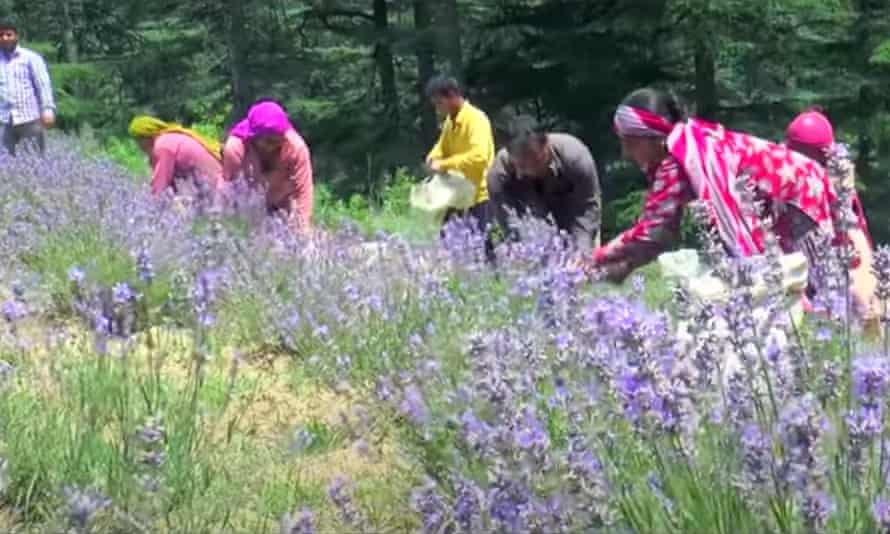 "I started lavender farming in 2010, hesitantly, as an experiment due to the encouragement from the Indian Institute of Integrative Medicine [IIIM] Jammu," says Bhushan. "It is easy to grow, and does not require much irrigation. I used just cow dung as manure." In two years he was earning four times more than he had done growing maize.
"Seeing my success, many followed suit and now more than 500 farmers in this area who are part of self-help groups are engaged in this occupation. I have also started two nurseries for propagating lavender saplings. The village has become a lavender producing and distillation hub," says Bhushan, who has also installed machinery to extract oil from lavender flowers.
"The best part about growing lavender is that many women in villages who are not allowed to work away from home have been encouraged to cultivate lavender around their homes because it is profitable, and this has made them self-reliant," he says.
"The domestic demand for lavender oil is high, and we sell distilled oil directly to industrial customers in cities in India, like Mumbai and Delhi. We also sell dried lavender for potpourri, sachets and flower arrangements, and hydrosol, which is formed after distillation from the flowers, used to make soaps and room fresheners."
Source: Purple revolution: India's farmers turn to lavender to beat drought | Global development | The Guardian