Using newly digitised logbooks detailing the hunting of sperm whales in the north Pacific, the authors discovered that within just a few years, the strike rate of the whalers' harpoons fell by 58%. This simple fact leads to an astonishing conclusion: that information about what was happening to them was being collectively shared among the whales, who made vital changes to their behaviour. As their culture made fatal first contact with ours, they learned quickly from their mistakes.
The hunters themselves realised the whales' efforts to escape. They saw that the animals appeared to communicate the threat within their attacked groups. Abandoning their usual defensive formations, the whales swam upwind to escape the hunters' ships, themselves wind-powered. 'This was cultural evolution, much too fast for genetic evolution,' says Whitehead.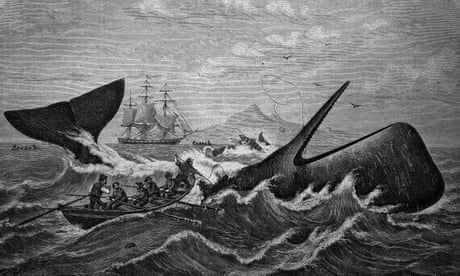 And in turn, it evokes another irony. Now, just as whales are beginning to recover from the industrial destruction by 20th-century whaling fleets – whose steamships and grenade harpoons no whale could evade – they face new threats created by our technology. 'They're having to learn not to get hit by ships, cope with the depredations of longline fishing, the changing source of their food due to climate change,' says Whitehead. Perhaps the greatest modern peril is noise pollution, one they can do nothing to evade.
Source: Sperm whales in 19th century shared ship attack information | Whales | The Guardian