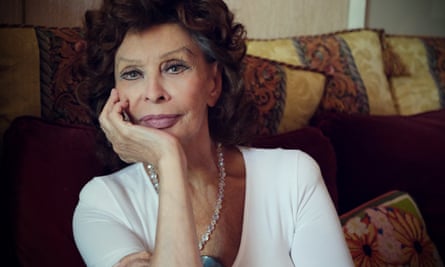 Loren has always defined herself as a Neapolitan first and an Italian second. I ask what the difference is and she laughs at my ignorance and says it would take too long to explain. "Naples is so strong, so vital. It's about music and dance. Books and books of history. Read all the books first and then we can talk."
The evidence suggests that she made the right choice. Europe provided more fertile ground for her skills. In 1962, she won the best actress Oscar for her turn in the potent wartime drama La Ciociara (Two Women), shot in 1960 by the neorealist director Vittorio De Sica. Loren played Cesira: widowed shopkeeper, embattled mother, a symbol of Italian fortitude and resilience. It is the film that, six decades on, she still considers her favourite, the one that mapped out the ground and pointed the way forward.
She is decisive, imperious, a natural-born thoroughbred with her eye on the prize. While The Life Ahead is Loren's first feature film in a decade, she bridles at the notion that it might be described as a comeback, or a curtain call. She says acting is her life, is all that she knows, and that therefore she sees no particular reason to quit. "Sophia for ever," she says with a smile.
I ask if she has ever felt lost, or beset by self-doubt, and she considers the question for all of two seconds. "Yes, well, maybe sometimes. But then I say to myself: 'Shut up. Be strong. Just keep going and try. Sometimes you make mistakes and sometimes you win.' I made some mistakes," she shrugs. "But still I won."
Source: Sophia Loren: 'The body changes. The mind does not' | Sophia Loren | The Guardian