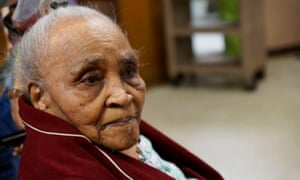 "When I walked into that voting booth, I took the spirit of my ancestors with me, thinking about how many people have died, were hung on trees, bitten by dogs, sprayed with firehoses," he said. "They overcame all that.
"Covid is nothing compared to what our ancestors went through to secure the right to vote for all of us."
I didn't anticipate Granny would be one of those ancestors whose spirit would hold me up as I held on to her pearls.
Black women are exceptionally impacted by three national crises yet are still most often left out of policy, excluded from news coverage, and most easily stereotyped. For every one of the ancestors who couldn't make it to this day, we say your names.
This election day, we take the spirit of our ancestors like Ms Rose, and every Black man and woman whose story has never, or is just yet to be, told. We forge our futures cloaked in the legacies of our past.
Ancestors, this vote is for you.
Source: Black women shed blood, sweat and tears to gain a voice. Granny, this vote is for you | US news | The Guardian