ROTFLMAO!!!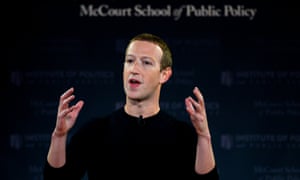 CEO faces quick backlash over highlighted policies, including on hate speech and voter suppression
Mark Zuckerberg touted Facebook as a champion of "free expression" in a wide-sweeping speech, offering a staunch defense of the social media giant following several rocky years characterized by allegations against the platform of censorship and bias.
Speaking at Georgetown University on Thursday, the Facebook CEO invoked Frederick Douglass, Martin Luther King Jr and Black Lives Matter as a means of positioning Facebook as a champion for freedom of speech.