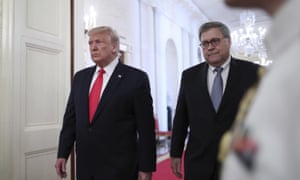 At the top there's corruption, down below there's dismantling and disarray. Americans are entering a period of immense danger
Do Americans still have a government? I do not know. What I do know is that President Trump and the upper echelons of the executive branch are at war with the legislative branch, the rule of law, the constitution, federal civil servants and the American people. It's a conflict that pulls in many directions, and if the president threatened civil war the other day as something that could happen if he doesn't get his way, we can regard the ordinary state of things as a low-intensity civil war or a slo-mo coup that's been going on from the beginning. Tuesday's White House refusal to cooperate with the impeachment inquiry only escalates their defiance and their chaos.
The chaos takes so many forms. Innumerable stories have made it clear that even the president's own aides and cabinet members treat him like a captive bear or a person having a psychotic breakdown – like someone unstable who must be kept from harming himself and others. They have done that by heaping on the flattery, and by warping and limiting the information he receives, and often by doing their best to prevent his directives from being realized.