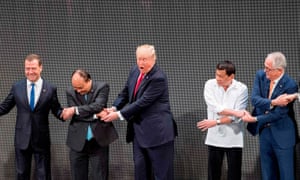 Trump – the 'very stable genius' – is no stranger to narcissistic statements, and he was at it again on Monday afternoon
Donald Trump perhaps broke a record for aggrandizement on Monday, when he referred to his "great and unmatched wisdom" following his decision to withdraw US troops from northern Syria.
Trump is no stranger to grandiose, narcissistic statements. He has frequently referred to himself as a "very stable genius" – and not tongue-in-cheek. He actually did so recently, in reference to his controversial phone call to the Ukraine president, Volodmyr Zelenskiy, which sparked an impeachment inquiry into him.