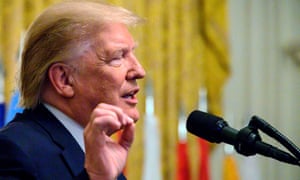 Democrats waited for their moment and, when the president started to believe he was secure, they struck. Will his complacency fell him?
Nancy Pelosi's decision to begin a formal impeachment inquiry against Donald Trump, following reports that he used the power of his office to solicit interference by a foreign government in the 2020 US election, makes him only the fourth president in US history to have this notable distinction, with Bill Clinton in 1998, Richard Nixon in 1973 and Andrew Johnson in 1868. The picture changes by the hour, but the main story concerns Trump's apparent offer to Ukraine's president, Volodymyr Zelenskiy, to unfreeze $40m in (Congress-approved) military aid if he would investigate Joe Biden, the current frontrunner in the Democratic primaries.
The conversation so shocked a member of the intelligence community that they filed an official whistleblower complaint. The White House then appears to have engaged in a cover-up, in part by keeping these conversations from officials who would normally have access to them, as well as allegedly moving the transcript of the call to a secret computer system (the Presidential Records Act of 1978, passed in response to the Watergate scandal, mandates that all presidential records must be officially preserved).