Closing Thought–03Sep19
By "We" I mean the country…..looks like Hurricane Dorian will spare the US this time from a direct hit…….a grazing blow is far better than a direct hit….says a survivor of Katrina.
I wish I could say that the Bahamas were as fortunate as we…..
Then there is the coverage of this storm by the MSM…..we should get very little interaction with this storm and yet the MSM in their disappointment still reports that there is little wind, sparse on rain and storm surge is negligible….but that all should be prepared for the rush of water that will precede the storm….these "reporters" seem to be making up anything that could go wrong and then would make them the star of the show.
Those brave people for the weather channel…where were they when the Bahamas got hit?
But the most disturbing story so far is the one of the American president…..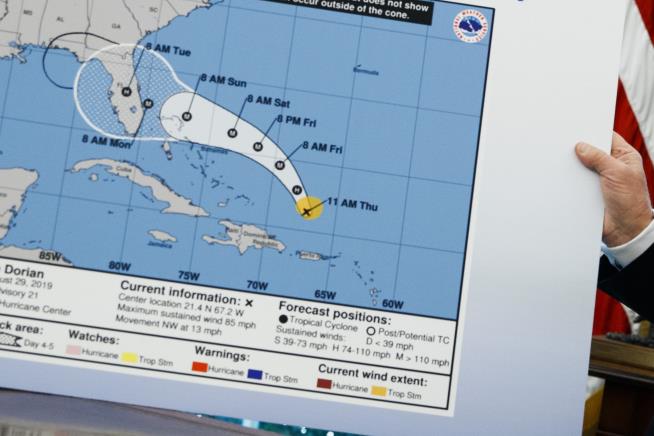 In what President Trump's critics are calling "Sharpie-gate" the president delivered a Hurricane Dorian update Wednesday in front of a map that had been doctored to back up his claim that the storm had been expected to hit Alabama. The NOAA forecast map from Aug. 29 had been altered with a Sharpie to include a loop around the state, the BBC reports. When Trump was asked about the change later Wednesday, he said "I don't know" three times, adding: "I know Alabama was in the original forecast, they thought it would get a piece of it." White House deputy press secretary J. Hogan Gidley confirmed in a tweet that the map had been altered with a marker, but slammed the media for going "ballistic" over it, the Washington Post reports. White House photos show that Trump was presented with the correct map on Aug. 29.

It's not clear whether the president himself altered the map, but whoever is responsible may have broken a law against knowingly issuing or publishing "any counterfeit weather forecast or warning of weather conditions falsely representing such forecast or warning to have been issued or published by the Weather Bureau, United States Signal Service, or other branch of the Government service,"which is punishable by up to 90 days in jail, Politico reports. Trump's warning Sunday that Alabama was in Dorian's path was quickly denied by the National Weather Service, but he has continued to insist, incorrectly, that the storm was widely forecast to hit the state. On Wednesday night, he tweeted an Aug. 28 forecast map that showed a few possible paths including Alabama, saying: "As you can see, almost all models predicted it to go through Florida also hitting Georgia and Alabama. I accept the Fake News apologies!
This from a person that continuously bitches about fake news….and is the greatest spreader of said news.
"Lego Ergo Scribo"