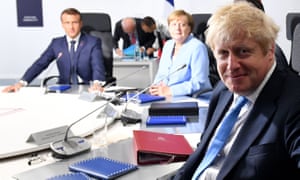 The prime minister's performance on the reality of no deal works by suspension of disbelief. The EU will not indulge it
Brexit is not the first thing Boris Johnson has found difficult, but it might be the first difficult thing he cannot simply abandon. The path by which he arrived in Downing Street is strewn with jettisoned jobs, principles and relationships. He finds other people's needs burdensome, and is used to shrugging them off. But now he is yoked to an onerous national duty. His discomfort was obvious in parliament today.
Johnson's traditional repertoire of glibness and bluster served him poorly as his authority and his majority melted away. The first significant test of his command of the Commons resulted in humiliation. He was defeated by a majority of 27, forfeited control of the legislative agenda, desperately threw a general election gauntlet across the chamber and watched helpless as the leader of the opposition dodged it.