Does he have an absolute right to give information to Russia and China that compromises our safety? Congress – do you have an answer?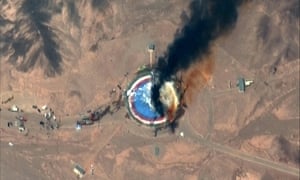 US president's release of high resolution photo raises concerns over disclosure of classified information
President Donald Trump has released a photograph of an apparently failed Iranian rocket launch and said the US had nothing to do with it, prompting concerns he disclosed classified information.
Tehran has made no official comment on the indications from aerial photos that a rocket exploded on Thursday on the launch pad at the Semnan Space Center in northern Iran.