both!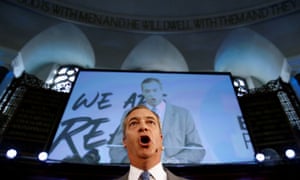 Brexit party leader offers to back Boris Johnson – but only if the PM unleashes no deal on Britain
A bell tolled five times and then a loud, heavy metal drumbeat played through the PA system of the main hall of the Emmanuel Centre in Westminster. Five-hundred prospective Brexit party parliamentary candidates rose as one to greet their messiah in the very building where he had announced his retirement from frontline politics just three years earlier. Nigel Farage milked the acclaim as he slowly walked down the aisle from the back of the auditorium.
"Are you ready?" he yelled when he finally stepped up on stage.