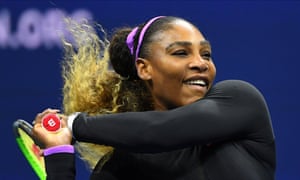 Williams wins 6-1, 6-1 over Sharapova in 59 minutes
Djokovic opens title defense with straight-set victory
So much has changed since the last time Serena Williams and Maria Sharapova stared each other down from across the net, fists pumped and teeth bared as growls vibrated from their throats. After falling to Wiliams for a 19th time in their 2016 Australian Open quarter-final, Sharapova walked off the court and took the drug test that would change her life. A year later, Williams returned to Melbourne pregnant and tore through the draw without dropping a set.
In the years since, both women have failed to match those results for different reasons, but under the lights of the Arthur Ashe Stadium in the most absurd first-round draw in recent history, there was a sense of familiarity as Williams demolished Sharapova 6-1, 6-1 to move up 20-2 in one of the most famous head-to-heads of all time.