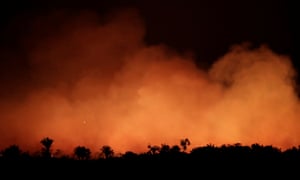 The rainforest might seem a remote place, but it is the heart of the planet – and it is under attack as never before
The Amazon is the centre of the world. Right now, as our planet experiences climate collapse, there is nowhere more important. If we don't grasp this, there is no way to meet that challenge.
For 500 years, this has been a place of ruins. First with the European invasion, which brought a particularly destructive form of civilisation, the death of hundreds of thousands of indigenous men and women and the extinction of dozens of peoples. More recently, with the clearance of vast swaths of the forest and all life within it. Right now, in 2019, we are witnessing the beginning of a new, disastrous chapter. The area of trees being cleared has surged this year. In July, the deforestation rate was an area the size of Manhattan every day, a Greater London every three weeks. This month, fires are incinerating the Amazon at a record rate, almost certainly part of a scorched-earth strategy to clear territory. Why is this happening now? Because of a change in power.