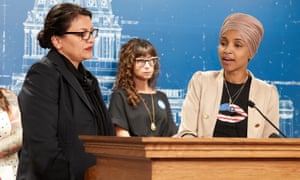 Rashida Tlaib and Omar called decision to block their entry an attempt 'to suppress our ability to do our jobs' in press conference
The Minnesota representative Ilhan Omar called on her colleagues to visit Israel to prevent Donald Trump and the Israeli prime minister, Benjamin Netanyahu, "succeed in hiding the cruel reality of the occupation from us".
Omar's comments came to in an emotional press conference on Monday, following Israel's decision last week to deny her and the Michigan representative Rashida Tlaib entry to the country amid pressure from Donald Trump. Omar called Israel's decision to block the planned official visit "nothing less than an attempt by an ally of the United States to suppress our ability to do our jobs as elected officials".