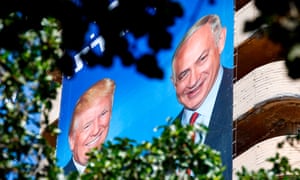 The US president feigns concern for Jews to justify bullying Ilhan Omar and Rashida Tlaib. Israel is happy to play along
Why would a president who has elevated white nationalism, who said there were "very fine people on both sides" in the white supremacist march in Charlottesville, decide that it's his duty to identify American leaders who he sees as threats to the Jews and to Israel? Why would a man who has given a platform to proud antisemites like Sebastian Gorka and Ben Garrison decide that the safety of the Jewish people rests on his shoulders?
President Trump's game of feigning concern for Jews in order to undercut women of color in Congress is all too transparent. And this time, his racism has been handed a new amplifier in Prime Minister Benjamin Netanyahu. Trump and Netanyahu are ratcheting one another's bigoted behaviors up in a game of anti-democracy chicken, where only these two election-frenzied men can win and many have their free expression and civil rights to lose.