what happens when fascist are in power!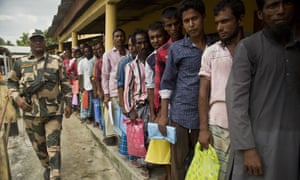 In Assam, a draconian exercise forces people to prove 'genuine' Indian heritage – or be branded illegal immigrants
Anti-immigrant hysteria is sweeping the world: it has powered Trump, enabled the Brexit vote and is roiling the politics of continental Europe. And while the damage done by this politics has been well documented in the west, one country rarely discussed in this regard is India. Yet millions are about to be declared stateless in the country on the grounds that either they or their ancestors came over as undocumented migrants from India's eastern neighbour, Bangladesh.
Currently, the north-eastern state of Assam is updating its National Register of Citizens: a supposed listing of genuine Indian nationals. Anyone who does not find their name on this NRC will be branded an illegal migrant. The NRC released a draft list in 2018 that declared more then 4 million people to be foreigners. The final list is expected on 31 August.