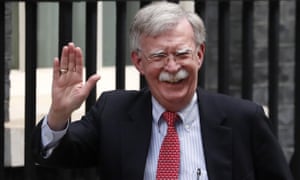 After Trump security adviser John Bolton's visit it's clear the price of US backing will be paid both in trade and foreign policy
If you thought it was bad enough when Donald Trump held a reluctant Theresa May's hand, then look away now. For things are about to get sweatier.
The president's clammy embrace of the British right continued this week with the arrival of his national security adviser John Bolton in London, to declare the most isolationist US regime in living memory would "enthusiastically" support a no-deal Brexit.