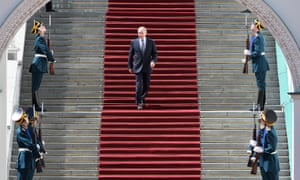 There's little hope of an improvement in relations so long as the Russian president's 20-year reign continues
When Boris Yeltsin appointed Vladimir Putin prime minister on 9 August 1999, few Russians knew much about him. In early television appearances he came across as mousy, shy and awkward, a man unaccustomed to the limelight from which his previous career in the KGB had shielded him.
But within weeks he revealed a character trait that would become the defining feature of his rule – ruthlessness. His first memorable phrase was his threat to wipe out terrorists "even if they're in the shithouse", and within weeks he had launched a terrifying war against separatists in Chechnya that would leave tens of thousands of civilians dead.