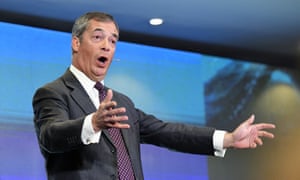 The Brexit party leader seeks attention by spouting ever greater nonsense. We should not be drawn in by his attempt to polarise
The sociologist Will Davies, describing the lesser-remarked conundrum of the Boris Johnson prime ministership (would the hardliners who anointed him ever be satisfied with any Brexit?), borrowed a phrase from American politics: asymmetric polarisation. It is an elegant, economical way of saying "the other side has gone bananas", which is funny because it's true.
Let's park the litany of examples for a second to concentrate on Nigel Farage. He appeared at a rightwing gathering in Australia on Saturday night – you could tell it was "alternative" because journalists were barred – and laid into Prince Harry and Meghan Markle in a way that was somewhat astonishing, but mainly completely bats.