Your papers please or we will tase and lock you up if you don't look like a white Brit!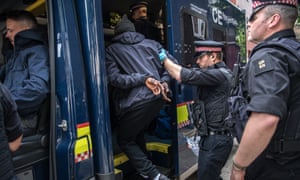 Prime minister also announced creation of 10,000 more prison places at a cost of £2.5bn
Boris Johnson has said he is determined to tackle rising levels of knife crime by announcing an extension of police stop-and-search powers.
At the same time, the prime minister announced the government would be investing £2.5bn in creating 10,000 new prison places to ensure serious violent and sexual offenders got the sentence they deserved.