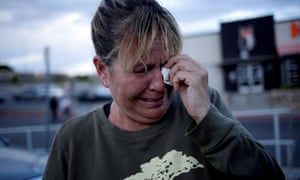 At each moment of national tragedy, Trump stands on the sidelines smirking – and does little to prevent atrocities from happening in the first place
"Summertime and the livin' is easy" are the opening lyrics of George Gershwin's 1935 opera, Porgy and Bess. But not in America in 2019.
Not when you go to bed on Saturday night mourning the victims of a massacre in a Walmart in the border city of El Paso. Not when you wake on Sunday morning to learn of mass murder in the seemingly safe downtown streets of Dayton, Ohio.