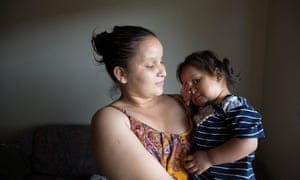 Esther Ramos lost 20 pounds when she was sent to a Texas facility while pregnant – and critics say experiences like hers are becoming more common
Esther Ramos was 16 years old and two months pregnant with her second child when she, her husband, Fredy Aldana, and their then 19-month-old daughter, Milagro, crossed the border in Tijuana to seek asylum in the US on 13 January.
Upon entry into the San Ysidro border station, Esther and Milagro were separated from Aldana and they haven't seen him since. Esther and her daughter spent three days in a Customs and Border Protection (CBP) holding cell, where she said she wasn't offered any food on her first day and she hardly ate during the next two days.