because no trading partners with China are willing to act and Russia as well as USA don't really care!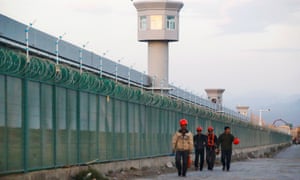 A reluctance to offend China and an information blackout has meant the persecution of the ethnic minority has gone under the radar. But pressure for change is building
On Wednesday, Sadam Abdusalam went to Australia's federal Parliament House for the first time and spent almost 12 hours meeting politicians – meetings he has spent almost two years hoping for – in which he pleaded for their help to bring his wife and nearly two-year-old son home.
Last week Abdusalam's story was broadcast on Four Corners, detailing how his wife and son are trapped in China because they are Uighurs – ethnic minority Muslims.