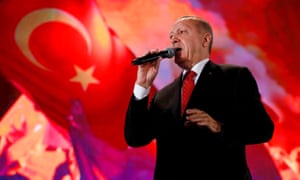 At odds with the US, Europe, his Arab neighbours and potentially Russia, too, the president is also increasingly unpopular at home
For a reputed "strongman", Recep Tayyip Erdoğan seems unusually nervous these days. A bombastic speech last week marking the third anniversary of a failed military putsch could not conceal his insecurity. He says he is using his sweeping powers as executive president to build a "new Turkey". But it appears the old one is tiring of him fast.
"The 15th of July was an attempt to subject our nation to slavery," Erdoğan declared. "But as much as we will never stop protecting our freedom and our future, those who lay traps for us will never cease their efforts." It was a typical pitch, blending nationalism with scare stories of secret foes, foreign and domestic.