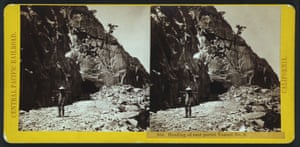 In a new exhibition, the overlooked contribution of Chinese workers is being brought to the light for the 150th anniversary of the railroad's completion
When one thinks of the transcontinental railroad, rarely do Chinese migrants come to mind. But in a new exhibition at the National Museum of American History in Washington, a vital revision is presented.
Until spring 2020, Forgotten Workers: Chinese Migrants and the Building of the Transcontinental Railroad peels back the layers to see who else should be commemorated during the recent 150th anniversary of the transcontinental railroad's completion – an achievement which has typically been celebrated with photos of old locomotives, successful-looking men in suits and anonymous workers hammering away.