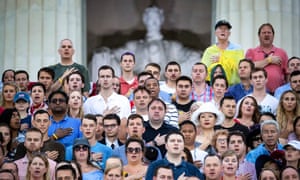 I still want to believe the US can make good on its promises, and not just to me. But I regularly wake up covered in fresh egg, courtesy of the highest leader in our land
My father was scheduled to speak at a university in Chicago, but there were no flights. This was right after the 9/11 attacks on the World Trade Center, and commercial air travel was a mess. The nation had been, briefly, stranded on the Earth.
We lived in Minnesota. Chicago was a six-hour drive away and my father did not want to back out of his commitment. He would drive, he said.