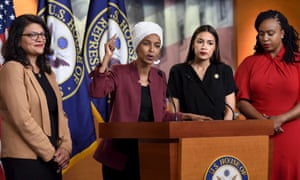 As we've seen in the UK, attacking the identity of people of colour can be a route to political success
Pity Donald Trump. Even his racism is the most unsophisticated kind. Every black and brown person knows a "go back to where you came from" racist. For many of us who have never been migrants, to have this muttered at us was the first signal that to be a visible minority means to be forever perceived as an immigrant. And that being perceived as an immigrant is bad.
"Go back" racists are rarely intellectually capable of engaging with the question of whether the destination they deem so suitable for us actually exists. Trump's latest outburst – in which he said four congresswomen should "go back and help fix the totally broken and crime infested places from which they came", is a case in point. For the US president to say of Ayanna Pressley, Ilhan Omar, Alexandria Ocasio-Cortez and Rashida Tlaib, "if they're not happy here, they can leave", makes no sense because the women in question are Americans. Yet it makes perfect sense because they are not white.