Racist and traitor says anyone who disagrees with him is attacking the America that he has laid open to Russian hacking!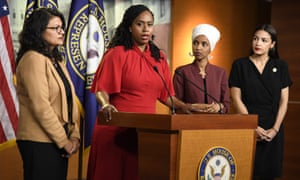 President also accused Democrats of giving them a 'free pass' as House will vote tonight to condemn Trump's initial remarks
Donald Trump fired another volley in what has become an all-out rhetorical war between the president and four progressive Democratic congresswomen Tuesday morning, accusing them of "spewing some of the most vile, hateful, and disgusting things ever said by a politician in the House or Senate".
He also accused the Democratic leadership of giving them a "free pass".