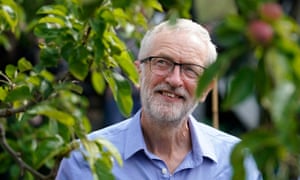 Jeremy Corbyn's wait-and-see approach no longer cuts it as a general election looms
The Labour party is in peril. The flailing political right, intellectually bankrupt but keenly culturally aware, has unleashed a social and political civil war to save itself. Brexit marks not the end but the beginning of a new politics in which the right is transmuting into the party of English nationalists – the Brexit party engulfing mainstream Toryism. The ugly forces have to be confronted, argued against and beaten. No quarter is possible.
By refusing to take up arms, the Labour party has colluded with the Brexit right, created the opening for the Lib Dems and Greens and thus permitted the emergence of a new multi-party system. If Labour continues to temporise, the first past the post electoral system will fell it. The Lib Dems, unapologetic Remainers who are beginning to recognise that their Keynesian tradition offers better policies for the times than soft Thatcherism, have the opportunity to become the new anchor of British progressive politics – strengthened, if they are sufficiently strategic, by working closely with the Greens.