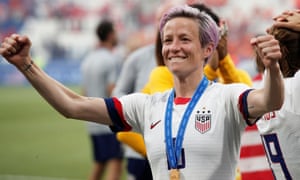 Netherlands got their tactics right and Americans struggled to impose themselves, yet once star of tournament scored there was only going to be one winner
It became clear after 13 minutes that this was going to be a different kind of game for the USA. The Netherlands, it turned out, were different from any team they had faced at this World Cup. But the US had something no other side in the tournament had: Megan Rapinoe, the biggest star of the World Cup, and the confidence she embodies.
After steamrolling their way through the rest of the tournament and scoring within 12 minutes in every game, the mighty Americans had to wait an agonizing 61 minutes to score against a team that very much got their tactics right. Although the Dutch goalkeeper, Sari van Veenendaal, was called on to make a handful of saves, the Netherlands were more organized and gave the Americans less space than any other team in this World Cup. The Americans' tactics often looked stale – they tried their darnedest to come out as the aggressors, just as they have this entire tournament, by playing direct and looking to spring attackers in behind.