Liar and pimping to bigots!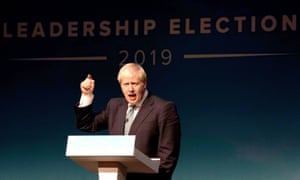 Tory leadership contender says English is not first language in 'too many parts of our country'
Boris Johnson has said there are "too many parts of our country" where English is not spoken as a first language and that he would require all immigrants to Britain to learn English.
At a hustings event for the Conservative leadership race in Darlington on Friday, the former mayor of London praised the capital's diversity but suggested some communities were not doing enough to integrate into society.