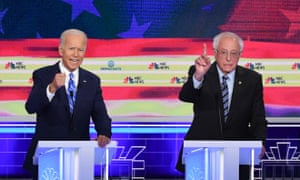 The Democratic debates' standouts have been Booker, Buttigieg, Castro, Harris and Warren – none a straight male Caucasian – while Joe Biden looked like this year's Jeb Bush
It was as if "Sleepy Joe" Biden had been jolted awake and found himself in a terrifying parallel universe.
No longer was he the former senator and vice-president who once lunched weekly with Barack Obama at the White House. Instead he was the accused, standing in the dock under the hot lights on a debate stage in Miami, as a fierce and formidable prosecutor tore into his record on race.
The inquisitor was Senator Kamala Harris, ablack and Asian American former prosecutor and California attorney general and who has shown a rare talent for making Jeff Sessions and other ageing white men in power squirm. Harris was surely the stand-out performer of the second in a pair of primary debates this week where the world could see a generational shift in the Democratic party happening before its eyes.
Related: 'Nobody works harder': insiders recall Kamala Harris's meteoric rise