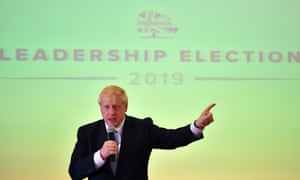 The would-be prime minister's racist vulgarity is childish – and reveals the nostalgia for empire that underpinned Brexit
If you were seeking to be positive about the likely premiership of Boris Johnson – which is absolutely not my intention – you might liken him to one of his predecessors as foreign secretary and prime minister, Lord Palmerston, who dominated British politics in the 1850s and 60s and, for all his foibles (and sexual excesses), was much loved by the public.
The similarities in their worldviews are striking. Palmerston was popular because his politics were founded on foreigner-bashing. His vision of the world was simple: Britain had perfected the art of democracy and was entitled to impose its views on everyone else. As one historian has noted, the "ideological strand to Palmerston's diplomacy … appealed to the aggressive national chauvinism that was such an important component of the mid-Victorian psyche".