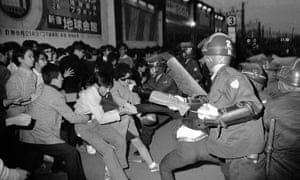 In 1969 Japan had its own 'Occupy Tokyo' moment – then the police cracked down. Now a new generation is fighting to bring public space back to the capital
It's 3:30pm and a dozen Tokyoites are sitting in the middle of the asphalt road, on a street in the famously crowded entertainment district of Shibuya, having a picnic.
They've brought snacks, beer and an entire roast beef, as well as a couple of 19th-century picnic sets, one of which is worth roughly £6,000. Passersby pretend not to notice, but you can tell from their sideways glances that they think it's a bit weird. Eventually a worried neighbour appears, ushering the group into his front yard, where there is a canopy to protect against rain.