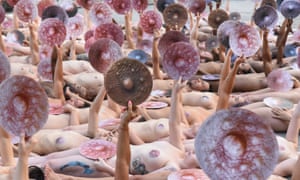 Demonstrators cover bodies with stickers to ensure nipples on display are 'male', in line with Facebook policy
Some were hairy. Some were pointy. Some were dark brown, some a pale pink. But the hundreds of nipples on display in front of Facebook's New York City headquarters on Sunday were technically "male", despite some being on female protesters.
More than 100 people lay nude on the sidewalk to call for a change to the company's censorship policies. The action, called #wethenipple, was organized by the artist Spencer Tunick and the National Coalition Against Censorship.