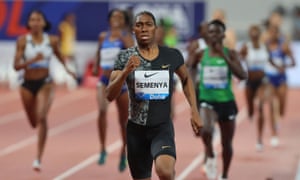 • Swiss court tells IAAF to suspend testosterone regulations
• Semenya can compete in 800m without medication to 25 June
Caster Semenya is once again free to run the 800m without having to take medication – at least for the time being – after the Swiss supreme federal court ordered the IAAF to suspend its testosterone regulations for her with immediate effect.
The surprise news – which completely blindsided athletics' governing body – means that the Olympic champion can compete in distances ranging from 400m to a mile without medication until at least 25 June. However for now it only applies to the South African and not other athletes with differences in sexual development (DSD).