In Japan for Memorial Day? Does Trump even care or know how many Americans Japan killed from 1941-1945?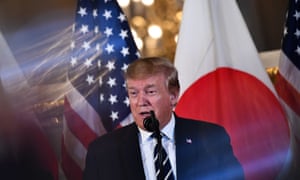 President says negotiators trying to even out trade imbalance
CNN says staffers dread long trips with Trump on Air Force One
Donald Trump kicked off his state visit to Japan on Saturday by urging Japanese business leaders to increase investment in the US – but he also complained about his own central bank and knocked his hosts for having a "substantial edge" on trade, which he said negotiators were trying to even out.
Related: 'Queen of shade': five times Nancy Pelosi got the better of Trump