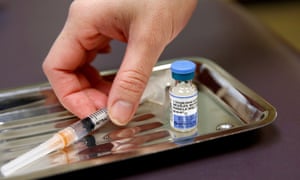 'Measles can kill,' warn experts, who suggest getting the jab before going on holiday to Europe
Anyone who has not been vaccinated or who has a child who missed a dose of the MMR vaccine should see their GP about catching up in the light of widespread measles outbreaks in Europe, Public Health England is warning.
PHE is particularly concerned about families and students who are likely to travel to Europe as the summer approaches, which is when cases of measles rose in the UK last year. Experts warn that measles is not a trivial disease. It can kill those with weak immune systems, while complications can include meningitis, encephalitis and eye damage.