Faux-Hindu nationalist fascists!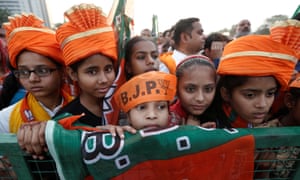 PM admonishes candidates who lauded Mahatma Gandhi killer as a 'patriot'
Campaigning in the most acrimonious election in recent Indian history has ended with an admonishment by the prime minister, Narendra Modi, of some of his hardline candidates for praising Mahatma Gandhi's assassin.
A six-week campaign dominated by national security issues and increasingly brazen rhetoric came to a head this week after a candidate for Modi's Hindu nationalist Bharatiya Janata party (BJP) in Madhya Pradesh state said she believed Gandhi's killer, Nathuram Godse, was "a patriot". She later apologised. Three other BJP members also weighed in on Gandhi's murder.