At war with his own people – dictator wannabe!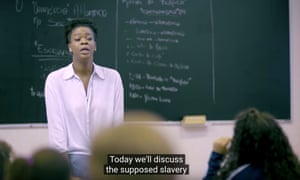 President Bolsonaro has accused schoolteachers of indoctrination but educators say his aim is to stifle critical thinking
Jair Bolsonaro has encouraged school students to film teachers during class if they suspect them of pushing leftist ideas, reigniting a battle in one of the most contested arenas of Brazil's raging culture wars.
"Teachers need to teach and not indoctrinate," Bolsonaro tweeted this week as he shared a video shot in class by a student who accused her teacher of criticizing the far-right president.