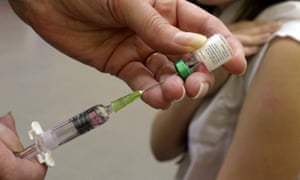 Figure includes half a million in UK, as Unicef warns the disease could 'spread like wildfire'
Nearly 170 million children in the world under the age of 10, including half a million in the UK and 2.5 million in the US, are unprotected from measles in the face of growing outbreaks of the disease, Unicef is warning.
More than 21 million children a year are not vaccinated against one of the most infectious organisms in existence, says the UN body. Between 2010 and 2017, an estimated 169 million children missed the first of the recommended two-dose regime.