New Brit Brownshirt arising!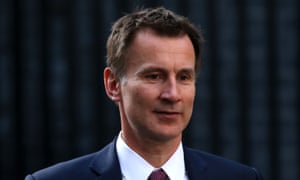 Foreign secretary also defends austerity as Tory leadership race heats up
Jeremy Hunt has raised the plight of persecuted Christians around the world in an Easter message, after launching a trenchant defence of the Conservatives' economic record following criticism from Jeremy Corbyn.
The foreign secretary, who is expected to be in the running to succeed Theresa May as Tory leader, has written 40 letters to Christian individuals and faith groups to mark the end of Lent.