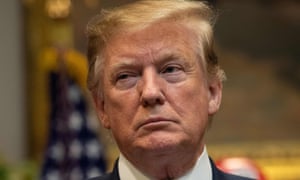 The US could have distanced itself from a murderous war. Instead, Trump's unholy alliance with the Saudis continues
Expected or not, Donald Trump's veto of a bipartisan Congressional resolution to end US military involvement in Saudi Arabia's murderous war in Yemen is an outrage. It will prolong the unspeakable suffering of millions of Yemeni civilians, the blameless victims of Riyadh's vicious proxy war with Iran and its Houthi allies.
Yet Trump's uncaring arrogance also threatens the US itself. It is further proof that the constitution's famous checks and balances are just not working, and that, post-Mueller, this unworthy president is raging dangerously out of control.