Unless you rubber stamp Israel's foreign and Palestinian polities, you are open to question?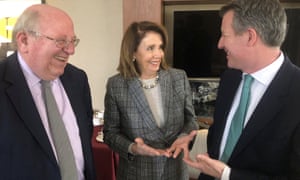 Powerful US Democrat meets ex-Labour MPs to discuss why they left the party and Brexit
The senior US Democrat Nancy Pelosi met three former Labour MPs on Sunday and discussed their concerns about antisemitism in the party before a meeting with the party's leader, Jeremy Corbyn.
The House Speaker said she had met Mike Gapes, Chris Leslie and Ian Austin "to hear their perspective on Brexit, why they left the Labour party, and the importance of standing unequivocally against antisemitism wherever it is found".