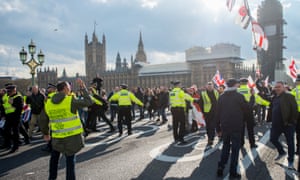 As the political temperature soars, those who seek to govern Britain have a responsibility to speak with care
In what moral universe is the statement "I wouldn't even rape you" categorised as "satire"? For this is how – in an interview on Sunday with the BBC's Andrew Marr – Gerard Batten, Ukip's leader, described a tweet sent to the Labour MP Jess Phillips in 2016 by Carl Benjamin, now one of his party's principal candidates in the European elections.
According to Batten, Benjamin is a "classical liberal", "not a bad person", "a proponent of free speech" and "wasn't actually making a literal statement". And there we were, thinking that he was just a vile misogynist, using social media to declare whether, in his opinion, a member of parliament should be raped or not.